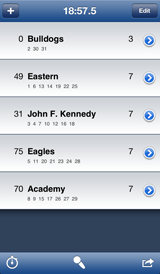 Have you ever watched a Cross Country meet and wondered what the score is? Now you can keep track on your own!
Uses:
Score a meet at a mile/kilometer mark
Score a meet at the finish
Create a hypothetical meet situation
Features:
Tap to score
Unlimited number of teams
Top positions displayed of each team
Scoring takes into account incomplete teams
Collect times and athlete names
Audio recorded during scoring helps identify runners
Adjust the start time of the stopwatch (in case you missed the start)
Reset only scores (possible to re-score during the same meet)
E-mail results
Print results via AirPrint
Note: when scoring a meet on an iPhone, you may want to enable Airplane mode to limit interruptions.
Requirements:
iOS 4.2 or higher
iPhone, iPod touch or iPad